Connecticut Stand with Ukraine-Calendar of Events-October 9, 2022 through November 9, 2022
-Sunday, October 9, 2022-3pm-Dakha Brakha-Jorgensen Auditorium-University of Connecticut Storrs CT
-Saturday, October 15, 2022-7pm-Vyshyvani Vechernytsi to support Ukraine-Krayany Assn-Ukrainian National Home of Hartford
-Sunday, October 23, 3pm. New Haven Symphony Orchestra (NHSO) concert fundraiser for medical aid in Ukraine, in partnership with Doctors United for Ukraine Co. (DU4U) at John Lyman Center for the Performing Arts, Southern Connecticut State University, 501 Crescent St, New Haven. Support Medical Aid in Ukraine and Receive Tickets to the New Haven Symphony Orchestra – Dwight Hall at Yale
-Sunday, October 30, 2022-2pm-Benefit Concert to aid Ukraine-Yevshan Ukrainian Vocal Ensemble-Church of St Thomas the Apostle 872 Farmington Ave West Hartford CT
-Wednesday, November 9, 2022-Rising Fury-Ridgefield Playhouse
Thank you for your support of Ukraine.
 2022 Hartford Ukrainian Community Calendar of Events  
UCCA-Hartford_2022_Calendar_revised_02-18-2022
The UNHH was established in 1935 and within a short time became New England's Premier Ukrainian Cultural Center.  Its mission is to institute and maintain a center of Ukrainian Cultural and Community life in Central Connecticut.
It is the Home of:
LANKA "HALYCHANKA"- Ukrainian Choir > facebook;
Ukrainian Gift Shop, tel. 

860-296-6955

.
Ukrainian Social Club, welcomes New Members, come and meet your fellow
Ukrainians! Gatherings on Fridays @ 8pm
Ask us about Lifetime Membership in the Ukrainian National Home of Hartford
Український Народний Дім був відкритий у 1935р.
Це найкращий український культурний центр на цілу Нову Англію, ціль якого є
втримувати  і продовжувати українське культурне та громадське життя в Коннектікат й околиці.
По сьогоднішний день в Українському Народному Домі є приналежні слідуючі організації/установи:
ЗОЛОТИЙ ПРОМІНЬ, Українська Танцювальна Група
СУМ, Спілка Української Молоді
ПЛАСТ, Українська Скавтська Організація
ЄВШАН, Український Хоровий Ансамбль
ЛАНКА "ГАЛИЧАНКА", Український Хор
УКРАЇНСЬКА КООПЕРАТИВА– крамниця із добірними українськими речами і харчами,
тел. 

860-296-6955   giftshop@ukrainiannationalhome.org
УКРАЇНСЬКИЙ КЛЮБ,  Товариський Клюб, відкритий кождої пятниці в год. 8-ій вечером сердечно запрошує всіх, запізнати других українців і все радий гостити нових членів
Бажаючі можуть придбати пожиттєве членство в Українському Народному Домі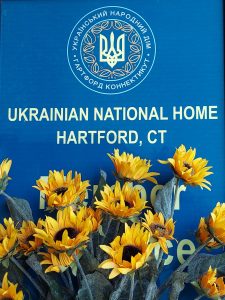 The annual meeting for the UNHH will be on Sunday, May 1, 2022, at 2 p.m. in the UpperHall. It is the expectation that all members will be present. One of the important topics for discussion will be future plans for the UNHH. As members, your input, is welcomed and valued. We encourage you to attend and share your ideas and visions for our future.
Respectfully,
Board of Directors